IMPACTOS À SAÚDE MENTAL DOS PROFISSIONAIS DA SAÚDE FRENTE À PANDEMIA DO COVID-19
Palabras clave:
Saúde mental, Pessoal da saúde, Pandemia, Infecção por coronavírus.
Resumen
Descrever os impactos à saúde mental dos profissionais da saúde frente à pandemia pela COVID-19. Estudo do tipo revisão integrativa da literatura, com busca dos artigos nas bases de dados LILACS, SciELO, MEDLINE, SciVerse Scopus publicados em 2020. Foram encontrados 169 artigos, dos quais, 18 atenderam os critérios de elegibilidade. Os impactos à saúde mental aos profissionais da saúde pela pandemia por COVID-19 mais predominantes foram a ansiedade, depressão, seguidos de sensação de medo, estresse e insônia. Os enfermeiros são os profissionais de saúde mais afetados seguidos dos médicos. Os profissionais de saúde vivenciam um momento ímpar decorrente da pandemia da COVID-19, em que a saúde mental destes tem sido preocupante. Sugere-se estudos para maior visibilidade aos problemas colaborativos para adoecimento em saúde mental dos profissionais, sua importância e o elevado índice de causar prejuízos à integridade mental, podendo vigorar de curto para um longo prazo.
Descargas
Los datos de descargas todavía no están disponibles.
Citas
Blake, H., Fiona, B., Graham, J., & Andrew, T. (2020). Mitigating the psychological impact of COVID-19 on healthcare workers: a digital learning package. International Journal of Environmental Research and Public Health, 17(9): 2997. Doi: 10.3390/ijerph17092997.
Cai,Q., Feng, H., Huang, J., Wang M., Wang Q., & Luet X., et al.(2020) The mental health of frontline and non-frontline medical workers during the coronavirus disease 2019 (COVID-19) outbreak in China: A case-control study. Journal of affective disorders. 1(275), 210–215. Doi: 10.1016/j.jad.2020.06.031.
Calil, T,Z,N., & Francisco, C,M. (2020). Estratégias nas instituições de saúde para reduzir estresse na enfermagem. Revista Recien. 10(29):40-47. Doi: https://doi.org/10.24276/rrecien2358-3088.2020.10.29.40-47.
Conselho Regional de Enfermagem do Estado de São Paulo (Coren-SP). (2020). [homepage na Internet]. EPIs para a Enfermagem durante a pandemia da COVID-19.
Dal'BBosco, EB., Floriano, LSM., Skupien, SV., Arcaro, G., Martins, AR., & Anselmo ACC. (2020). Mental health of nursing in coping with COVID-19 at a regional teaching hospital. Rev Bras Enferm. 73(2), 1-7. doi: http://dx.doi.org/10.1590/0034-7167-2020-0434 e20200434.
Galvão, TF., Pansani TSA., & Harrad D. (2015). Principais itens para relatar Revisões sistemáticas e Meta-análises: A recomendação PRISMA. Rev. Epidemiol. Serv. Saúde, 24(2), 335-342. doi: 10.5123/S1679-49742015000200017.
Fessell, D., & Cherniss, C. (2020). Coronavirus Disease 2019 (COVID-19) and Beyond: Micropractices for Burnout Prevention and Emotional Wellness. J Am Coll Radiol. 17(6):746-748. doi: https://doi.org/10.1016/j.jacr.2020.03.013.
Huang, J,Z. Han, M,F., Luo, T,D., Ren, A,K., & Zhou, X,P. (2020). Mental health survey of medical staff in a tertiary infectious disease hospital for COVID-19. Zhonghua Lao Dong Wei Sheng Zhi Ye Bing Za Zhi. 38(3):192-195. doi: 10.3760/cma.j.cn121094-20200219-00063.
Kannampallil, T,G., Goss, C,G. Evanoff, B,A., Strickland, J,R., McAlister, P,R., & Duncan, J. (2020). Exposure to COVID-19 patients increases physician trainee stress and burnout. PloS one, 15(8): e0237301. Doi: https://doi.org/10.1371/journal.pone.0237301.
Kisely, S., Warren, N., McMahon, L., Dalais, C., Henry, I., & Siskind, D. (2020). Occurrence, prevention, and management of the psychological effects of emerging virus outbreaks on healthcare workers: rapid review and meta-analysis. The bmj BMJ. 2020;36(9):1642. doi: 10.1136/bmj.m1642.
Lima, S. (2020). Distanciamento e isolamento social pela Covid-19 no Brasil: impactos na saúde mental. Revista de Saúde Coletiva, 30(2),1-10. doi: http://dx.doi.org/10.1590/S0103-73312020300214.
Lai, J., Simeng, M., Wang, Y., Cai Z., Hu, J., & Wei N, et al. (2020) Factors Associated With Mental Health Outcomes Among Health CareWorkers Exposed to Coronavirus Disease 2019. JAMA Network Open. 3(3), 203-976. doi:10.1001/jamanetworkopen.2020.3976.
Lua, W., Wangb, H., Linc,Y., & Lia,L.(2020) Psychological status of medical workforce during the COVID-19 pandemic: A cross-sectional study. Psychiatry Research. 28(8),112-936. doi: https://doi.org/10.1016/j.psychres.2020.112936.
Mendes, KDS., Silveira, RCCP., & Galvão, CM.(2008) Integrative review: research method for incorporating evidence in health and nursing. Texto Contexto Enfermgem. 17(4): 758-64. doi: http://dx.doi.org/10.1590/S0104-07072008000400018.
Moreira, WC., Sousa AR., & Nobrega, MP. (2020). Mental disease in the general population and health professionals during COVID-19: SCOPING REVIEW. Texto contexto – enferm 29 (20), 200-215, Doi: https://doi.org/10.1590/1980-265x-tce-2020-0215.
Oliveira, E,B., Gallasch, C,H., Silva., J,P,P,A., Oliveira, A,V,R., Valério, R,L., & Dias, L,B,S. (2017). Occupational stress and burnout in nurses of an emergency service: the organization of work. Rev enferm UERJ, 25:28842. doi: http://dx.doi.org/10.12957/reuerj.2017.28842.
Paiva, C,E., Martins, B,P., & Paiva, B,S,R. (2018). Doctor, are you healthy? A cross-sectional investigation of oncologist burnout, depression, and anxiety and an investigation of their associated factors. BMC Cancer, 18: 1044. Doi: 10.1186/s12885-018-4964-7.
Pappa, S., Ntella, V., Giannakas, T., Giannakoulis, V,G., Papoutsi, E., & Katsaounou, P. (2020). Prevalence of depression, anxiety, and insomnia among healthcare workers during the COVID-19 pandemic: A systematic review and meta-analysis. Brain, behavior, and immunity. Brain Behav Immun. 88: 901–907. Doi: 10.1016/j.bbi.2020.05.026.
Petzold, MB., Bendau, A., Plag, J., Pyrkosch, L., Maricic, LM., & Betzler, F., et al. (2020) Risk, resilience, psychological distress, and anxiety at the beginnig of the COVID-19 pandemic in Germany. Brain and Behavior, 10, 3-10. doi: 10.1002/brb3.1745.
Petzold, M,D., Plag, J., & Strohle, A. (2020). Dealing with psychological distress by healthcare professionals during the COVID-19 pandemia. Der Nervenarzt.. 91 (5): 417-421. doi: 10.1007 / s00115-020-00905-0.
Teixeira, CFS., Soares, CM., Souza, EA., Lisboa, ES., Pinto, ICM., & Andrade, LR. (2020). A saúde dos profissionais de saúde no enfrentamento da pandemia de Covid-19. Ciência & Saúde Coletiva 25 (9), 3465-3474. doi: https://doi.org/10.1590/1413-81232020259.19562020.
Xiao, H., Zhang, Y., Kong, D., Li S & Yang., N. (2020). The effects of social support on sleep quality of medical staff treating patients with Coronavi¬rus disease 2019 (COVID-19) in January and February 2020 in China. Med Sci Monit, 26(9):235-49. doi: 10.12659 / MSM.923549.
Xiao, X., Zhu, X., Fu, S., Hu, Y., Li, X., & Xiao, J. (2020 Sep). Psychological impact of healthcare workers in China during COVID-19 pneumonia epidemic: A multi-center cross-sectional survey investigation. J Affect Disord. 1;274:405-410. Doi: 10.1016/j.jad.2020.05.081.
Ying, Y., Ruan, L., Kong, F., Zhu, B., Ji, Y., & Lou, Z. (2020). Mental health status among family members of health care workers in Ningbo, China, during the coronavirus disease 2019 (COVID-19) outbreak: a cross-sectional study. (2020). BMC Psychiatry, 20, 379. Doi: doi.org/10.1186/s12888-020-02784-w.
Wong, T,W., Yau, J,K., & Chan, C,L. (2005). The psychological impact of the severe acute respiratory syndrome outbreak on health professionals in emergency departments and how they cope. Eur J Emerg Med. 12(1):13-18. doi: 10.1097/ 00063110-200502000-00005.
Zhanga, W., Wanga, K., Yinc, L., Zhaoa, W., Xuea, Q., & Penga, P., et al. (2020). Mental Health and Psychosocial Problems of Medical Health Workers during the COVID-19 Epidemic in China. Psychother Psychosom. 8(9), 242–250. doi: 10.1159/000507639.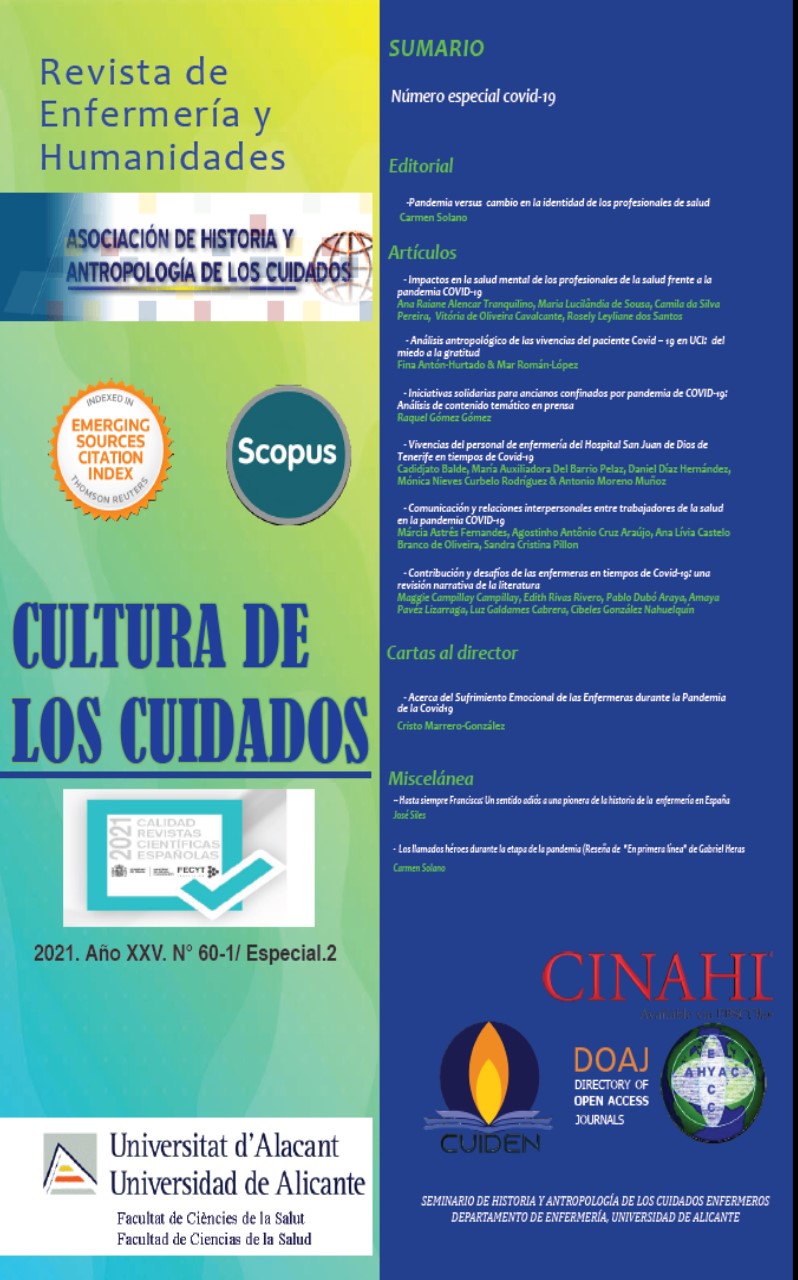 Descargas
Estadísticas
Cómo citar
Alencar Tranquilino, A. R., de Sousa, M. L., Pereira, C. da S., Cavalcante, V. de O., & dos Santos, R. L. (2021). IMPACTOS À SAÚDE MENTAL DOS PROFISSIONAIS DA SAÚDE FRENTE À PANDEMIA DO COVID-19. Cultura De Los Cuidados, (60-1), 5–19. https://doi.org/10.14198/cuid.2021.esp2.02
Licencia
Derechos de autor 2021 Ana Raiane Alencar Tranquilino, Maria Lucilândia de Sousa, Camila da Silva Pereira, Vitória de Oliveira Cavalcante, Rosely Leyliane dos Santos
Esta obra está bajo una licencia internacional Creative Commons Atribución 4.0.