Nursing health care practices in the scenario of Portuguese-speaking countries
Palabras clave:
Nursing, Community of Portuguese-Speaking Countries, Integral Healthcare Practice.
Resumen
Care is essential for men from birth to death and nursing permeates this whole process since it participates from the search for the best evidence-based health care practices to the execution of this care. These practices are present in the reception, in the construction and establishment of intersubjective bonds, and in qualified listening, aspects that constitute the elements inherent to the constitution of holistic care. Nursing is inserted in this care since it is a science committed to improving this care based on evidence-based practices. This unique contribution from nursing affects and transforms the reality of health in several countries, including those of the Portuguese language.
Citas
Andrade, E. O. D., Givigi, L. R. P., & Abrahão, A. L. (2018). The ethics of self-care as a way of creating potential tools for work in Health. Interface-Comunicação, Saúde, Educação, 22(64),67-76. https://doi.org/10.1590/1807-57622016.0643
Boff, L. (1999). Knowing how to care: ethics of human compassion for the land. Editora Vozes Limitada.
Corbani, N. M. D. S., Brêtas, A. C. P., & Matheus, M. C. C. (2009). Humanization of nursing care: what is this?. Revista Brasileira de Enfermagem, 62(3), 349-354. http://dx.doi.org/10.1590/S0034-71672009000300003
Oviedo, A. D., Delgado, I. A. V., & Licona, J. F. M. (2020). Social communication skills in humanized nursing care: A diagnosis for a socio-educational intervention. Escola Anna Nery, 24(2), e20190238. https://doi.org/10.1590/2177-9465-ean-2019-0238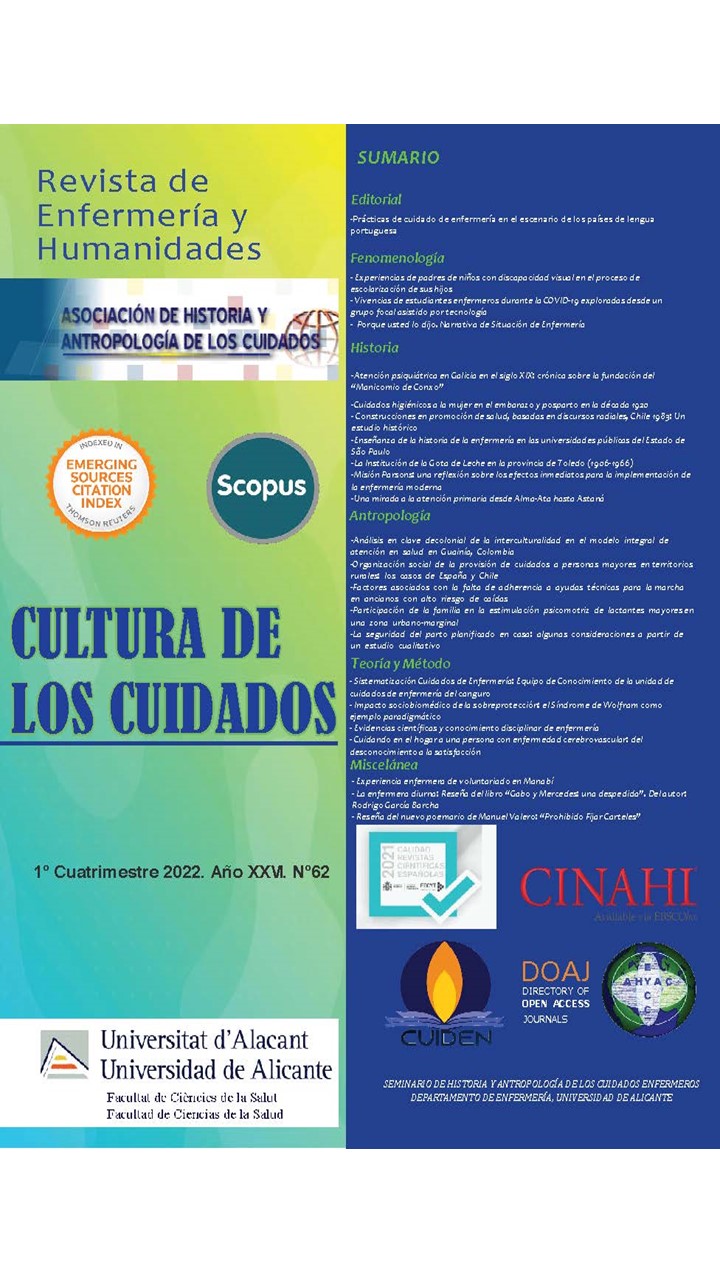 Descargas
Estadísticas
Cómo citar
de Souza Maciel Ferreira, J. E., de Oliveira, L. R., & Cavalcante, T. F. (2022). Nursing health care practices in the scenario of Portuguese-speaking countries. Cultura De Los Cuidados, 26(62), 1–6. https://doi.org/10.14198/cuid.2022.62.01
Licencia
Derechos de autor 2022 José Erivelton de Souza Maciel Ferreira, Lídia Rocha de Oliveira, Tahissa Frota Cavalcante
Esta obra está bajo una licencia internacional Creative Commons Atribución 4.0.