Efectos de la tecnología en los cuidados de enfermería
Palabras clave:
Educación en Enfermería, Atención de Enfermería, Informática Aplicada a la Enfermería, Tecnología Biomédica, Tecnología
Resumen
La visión de la tecnología como herramienta de ayuda destinada a mejorar las condiciones de las personas influye en múltiples aspectos de la asistencia y del cuidado. La tecnología en enfermería y en los cuidados abarca; el papel de la enfermera como nexo de unión entre la tecnología y el paciente, la aplicación de una ética del cuidado, la capacitación del manejo de la tecnología y la educación en distintos ámbitos. La falta de manejo junto a problemas de funcionamiento pueden provocar ansiedad y estrés en las enfermeras, el uso de la tecnología dentro de la formación de profesionales de enfermería, refuerza las habilidades con las que se llegue a la práctica clínica o a las instituciones, favoreciendo la adaptación al entorno laboral. El innovar no solo depende de las instituciones de salud, la implementación de las nuevas tecnologías, busca que los profesionales vean una oportunidad para el crecimiento profesional y que se interesen por el desarrollo de proyectos que vayan encaminadas al uso y su aplicación. La tecnología es un elemento neutro, son las actuaciones de la enfermera lo que determina la presencia de aspecto positivos o negativos asociados a la aplicación de tecnología.
Descargas
Los datos de descargas todavía no están disponibles.
Citas
Airen, L., Clarke, S., Sloane, D., Sochalski, J., y Silber, J. (2002). Hospital nurse staffing and patient mortality, nurse burnout, and job dissatisfaction. Journal of the American Medical Association Oncology, 288(16), 1987-1993.
Ansaloni, P., 2007. Role of nurses in managing complex instruments. Giornale Italiano di Cardiologia, 8(5), 42-45.
Arredondo González, C.P., y Siles González, J. (2009). Tecnología y Humanización de los Cuidados. Una mirada desde la Teoría de las Relaciones Interpersonales. Index de Enfermería, 18(1), 32-36.
Barnard, A., y Sandelowski, M. (2001). Technology and humane nursing care: (ir) reconcilable or invented difference? Journal of Advanced Nursing, 34(3), 367-375.
Bastos, M., (2002). Saber e a tecnología: mitos de um centro de tratamiento intensivo. Rev Latino-Am Enfermagem, 10(2), 131-136.
Becker, M., Behrends, M., Barthel, C., Kupka, T., Schmeer, R., Meyenburg, I. & Marschollek, M. (2015). Developing a mobile application for recording learning experiences in nursing practice. Studies in Health Technology and Informatics, 210, 899-903.
Brault, I., Therriault, P., St, L., y Lebel, P. (2015). Implementation of interprofessional learning activities in a professional practicum: The emerging role of technology. Journal of Interprofessional Care, 29(6), 530-5.
Brown, R., (2015). Thinking of Serving Nursing Abroad: How Technology Assists Nurses on Mission Trips. Nursing Clinics of North America, 50 (2), 399-410.
Dragon, N., (2006). Patient care in a technological age. Australian Nursing Journal, 14(1), 16-19.
Escudero, B., (2003). Humanismo y tecnología en los cuidados de enfermería desde la perspectiva docente. Enfermería Clínica, 13(3), 164-170.
Farrar, F. (2015). Transforming Home Health Nursing with Telehealth Technology. Nursing Clinics of North America, 50 (2), 269-281.
Feito, G. (2005). La ética del cuidado: Modas, paradojas y talantes. En M. Reyes, Rivas Flores FJ, Buisán Pelay R y García Férez J, (eds.). La bioética, un puente inacabado (pp.79-87). Madrid: Asociación de Bioética Fundamental y Clínica.
Haghenbeck, K. (2005). Critical care nurses´experiences when technology malfunctions. Journal of the New York Nurses Association, 36(1), 13-19.
Hallmark, B. (2015). Faculty Development in simulation education. Nursing Clinics of North America, 50(2), 389-397.
Ingadottir, T. & Jonsdottir, H. (2006). Technological dependency the experience of using home ventilators and long-term oxygen therapy: patients' and families' perspective. Scandinavian Journal of Caring Sciences, 20(1), 18-25.
Johansson, E., Langius, A., Engervall, P. & Wredling, R. (2005). Patients' experience of ambulatory self-administration of pamidronate in multiple myeloma. Cancer Nursing, 28(2), 158-65.
Jordan, S., Philpin, S., Warring, J., Cheung. Y,. & Williams, J. (2006). Percutaneous endoscopic gastrostomies: the burden of treatment from a patient perspective. Journal of Advanced Nursing, 56 (3), pp.270-281.
Ketel, C. (2015). Potentials of Internet-Based Patient Engagement and Education Programs to Reduce Hospital Readmissions: A Spotlight on Need in Heart Failure. Nursing Clinics of North America, 50(2), 283-291.
Krau, S. (2015). The Influence of Technology in Nursing Education. Nursing Clinics of North America, 50 (2), 379-387.
Lilly, K., Fitzpatrick, J,. y Madigan, E. (2015). Barriers to integrating information technology content in doctor of nursing practice curricula. Journal of Professional Nursing, 31(3), 187-199.
Mahon, M. (2006). Technology in hospice: Is it a contradiction? Home Healthcare Nurse, 24(8), 527-531.
Marden, S. (2005). Technology dependence and healthrelated quality of life: a model. Journal of Advanced Nursing, 50(2), 187-95.
Moore, L. y Wasson, J. (2006). An introduction to technology for patient-centered collaborative care. Journal of Ambulatory Care Management, 29(3), 195-198.
Needleman, J., Buerhaus, P., Mattke, S., Stewart, M., & Zelevinsky, K. (2002). Nurse staffing levels and the quality of care in hospitals. The New England Journal of Medicine, 346 (22), 1715-1722.
Sneed, R., Warren, L., Stencel, M. y Stencel, C. (2004). Policy Versus Practice: comparison of Prescribing Therapy and Durable Medical Equipment in Medical and educational Settings. Pediatrics, 114(5), 612-25.
Tearl, D. y Hertzog, J. (2007). Home Discharge of Technology Dependent Children: Evaluation of a Respiratory- Therapist Driven Family Education Program. Respiratory care, 52 (2), 171-176.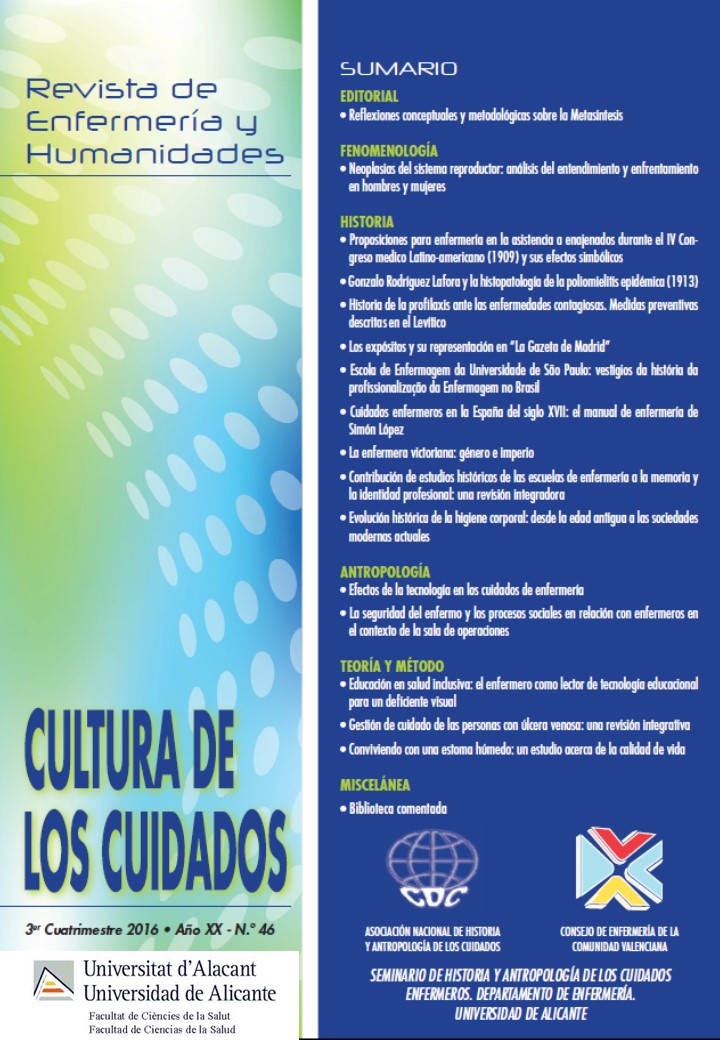 Descargas
Estadísticas
Cómo citar
Marrujo Pérez, K. J., & Palacios-Ceña, D. (2017). Efectos de la tecnología en los cuidados de enfermería. Cultura De Los Cuidados, (46), 127–133. https://doi.org/10.14198/cuid.2016.46.12
Licencia
Derechos de autor 2017 Karina Jazmin Marrujo Pérez, Domingo Palacios-Ceña
Esta obra está bajo una licencia internacional Creative Commons Atribución 4.0.